Cybersecurity Competence Centre Pilot Projects: SME Impact and Opportunities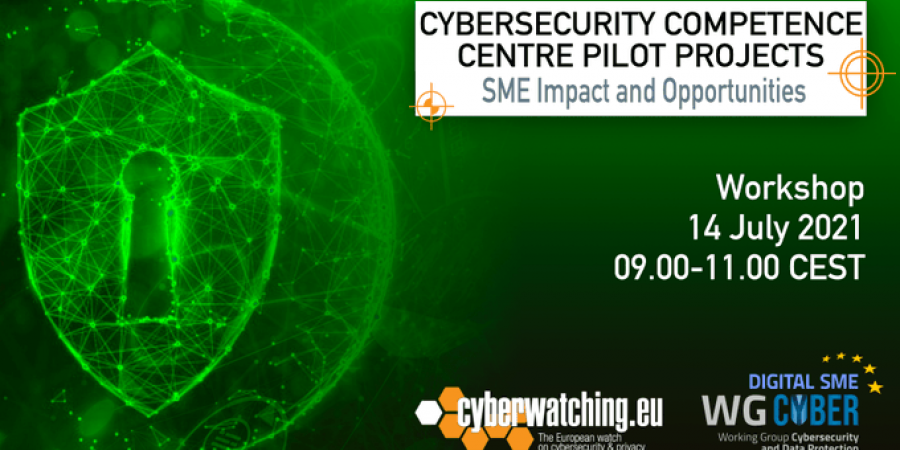 DIGITAL SME Working Group Cybersecurity and Data Protection, together with Cyberwatching.eu, is organising a workshop on the Cybersecurity Competence Centre Pilot Projects on 14 July, 9.00 – 11.00 CEST, to discuss opportunities for SMEs or Digital Innovation Hubs to be engaged in the pilots.
With the establishment of the European Cybersecurity Competence Centre in Bucharest, the European Commission and Member States are taking steps to ensure that Europe's cybersecurity capacities are strengthened, to ensure that European digital autonomy is secured. SMEs are at the heart of this effort, and the Competence Centre represents an opportunity for SMEs to be directly involved in deciding how our cybersecurity capabilities are developed.
Before the Centre becomes operational, four pilot projects have been established to develop aspects of the Centre and Network:
SPARTA: with the aim of re-imagining the way cybersecurity research, innovation, and training are performed in Europe across domains and expertise, SPARTA will create a long-lasting community capable of defining, shaping and developing solutions that will help practitioners prevent cybercrime and enhance cybersecurity.
CONCORDIA: a Cybersecurity Competence Network with leading research, technology, industrial and public competences, CONCORDIA provides excellence and leadership in technology, processes and services to establish an user-centric EU-integrated cybersecurity ecosystem for digital sovereignty in Europe.
ECHO: working to enhancing Europe's technological sovereignty, the project will develop a European Cybersecurity ecosystem, to support secure cooperation and development of the European market, as well as to protect the citizens of the European Union against cyber threats and incidents.
CyberSec4Europe: using best practice examples as well the expertise and experience of partners, CyberSec4Europe is designing, testing and demonstrating potential governance structures for a future European Cybersecurity Competence Network.
During the event, each of the pilot projects will be presented, discussing the impact this might have on the Competence Centre once it is implemented, and any opportunities for SMEs or DIHs to be engaged through participation in the pilots, membership of the Community and engagement with the Network.