Four inspiring keynotes will be offered during the workshop held by the following distinguished speakers: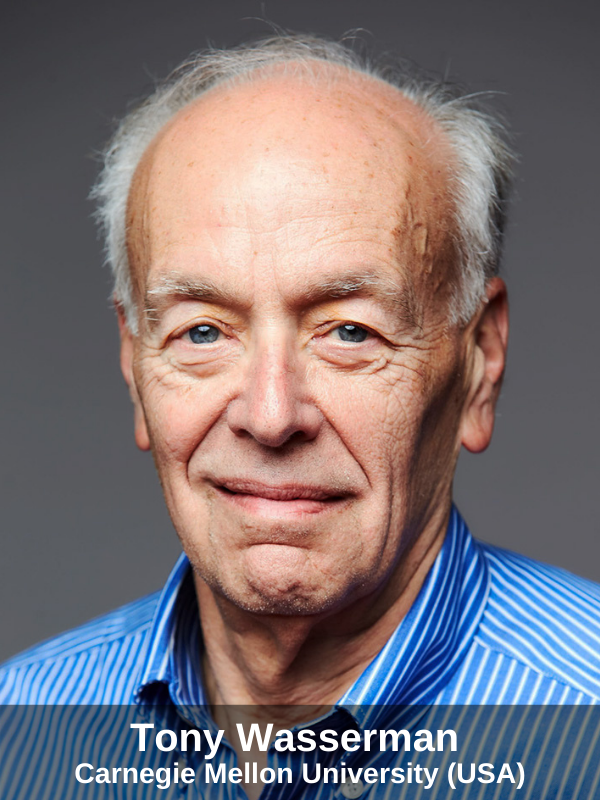 Tony Wasserman, Carnegie Mellon University Silicon Valley (USA)

Tony Wasserman is a professor of Software Management Practice in the Integrated Innovation Institute (III) and the executive director of the Center for Open Source Investigation at Carnegie Mellon University Silicon Valley (CMU-SV). From 2010-16, he served as a director of the Open Source Initiative (opensource.org).

Tony was previously founder and CEO of Interactive Development Environments (IDE), creator of the innovative multiuser Software through Pictures development platform, and one of the first 100 dot-coms. IDE included open source software in its commercial product (1984), making it the second company to do so. Previously, Wasserman was vice president of Bluestone Software (acquired by H-P), where he led a development team creating the award-winning Total-e-Mobile toolkit. Before and after these positions, he held executive positions for various startups, and continues to advise startups.

Early in his career, Tony was Professor of Medical Information Science at University of California, San Francisco, and a Lecturer in Computer Science at UC Berkeley.

Wasserman has been selected as a Fellow of the Association for Computing Machinery (ACM), a Life Fellow of the Institute of Electrical and Electronic Engineers, and a Fellow of the International Federation of Information Processing (IFIP). He has published more than 60 technical papers, edited ten books, and is the recipient of several awards for his contributions. He was the first recipient of the ACM SIGSOFT Distinguished Service Award, received the 2012 Distinguished Educator Award from the IEEE Technical Council on Software Engineering, and the 2013 Influential Educator Award from ACM SIGSOFT. Wasserman earned his Ph.D. in Computer Sciences from the University of Wisconsin - Madison and his B.A. in Mathematics and Physics from UC Berkeley.

Tony has a longstanding interest in innovation and entrepreneurship, which is reflected in his classes, and as an advisor to numerous startups.
---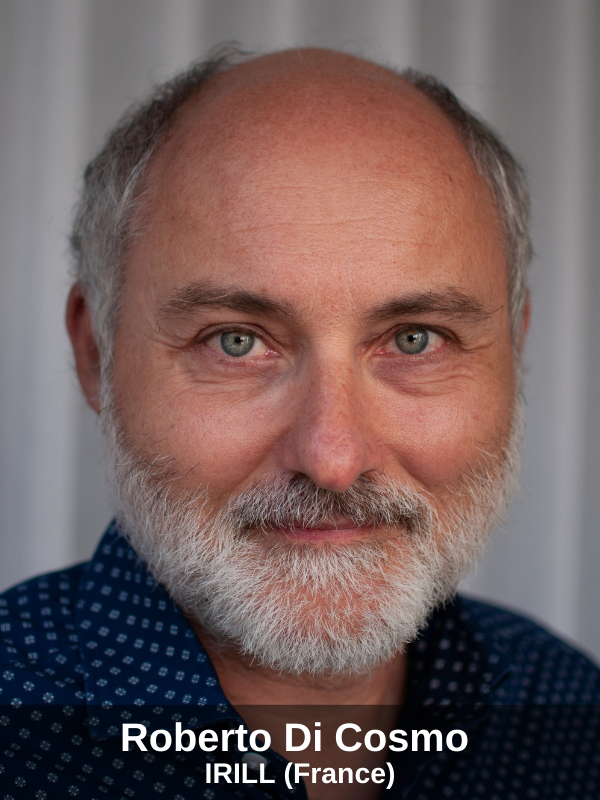 Roberto Di Cosmo, IRILL (France)

Roberto di Cosmo is an alumnus of the Scuola Normale Superiore di Pisa, with a PhD in Computer Science from the University of Pisa. He was associate professor for almost a decade at Ecole Normale Supérieure in Paris. In 1999, he became a Computer Science full professor at University Paris Diderot, where he was head of doctoral studies for Computer Science from 2004 to 2009. A trustee of the IMDEA Software institute, and member of the national committee for Open Science in France, he is currently on leave at INRIA.

His research activity spans theoretical computing, functional programming, parallel and distributed programming, the semantics of programming languages, type systems, rewriting and linear logic, and, more recently, the new scientific problems posed by the general adoption of Free Software, with a particular focus on static analysis of large software collections. He has published over 20 international journals articles and 50 international conference articles.
In 2008, he has created and coordinated the European research project Mancoosi, that had a budget of 4.4Me and brought together 10 partners to improve the quality of package-based open source software systems.


Following the evolution of our society under the impact of IT with great interest, he is a long term Free Software advocate, contributing to its adoption since 1998 with the best-seller Hijacking the world, seminars, articles and software. He created in October 2007 the Free Software thematic group of Systematic, that helped fund over 50 Open Source research and development collaborative projects for a consolidated budget of over 200Me. From 2010 to 2018, he was director of IRILL, a research structure dedicated to Free and Open Source Software quality.

He created in 2015, and now directs Software Heritage, an initiative to build the universal archive of all the source code publicly available, in partnership with UNESCO.
---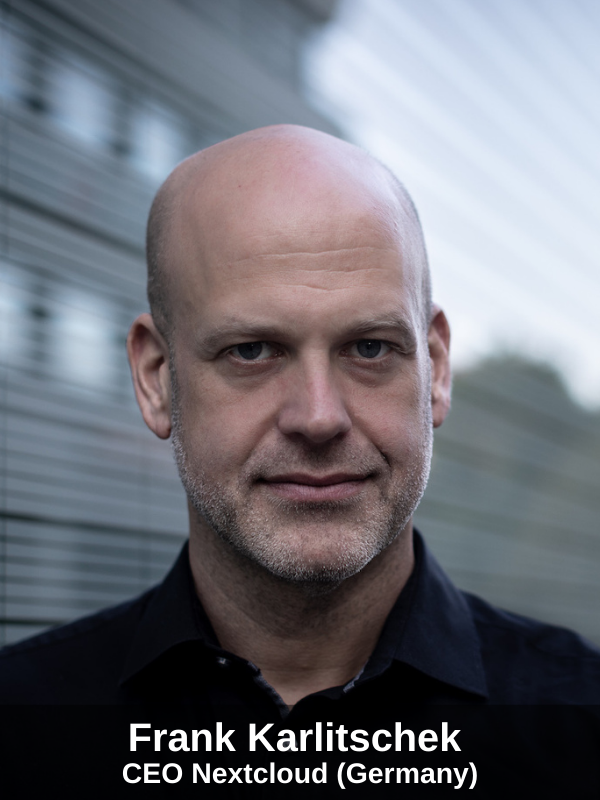 Frank Karlitschek, CEO Nextcloud (Germany)

Frank Karlitschek studied computer science at the University of Tübingen. He is a long time open source developer and former board member of the KDE e.V. In 2016 he founded Nextcloud to create a fully open source and decentralized alternative to big centralized US cloud companies. In 2012 he initiated the User Data Manifesto to define basic human rights regarding personal data. Frank was an invited expert at the W3C to help to create the ActivityPub internet standard. Frank has spoken at MIT, CERN, Harvard and ETH and keynoted several conferences. Frank is the founder and CEO of Nextcloud GmbH. He is also a fellow of Open Forum Europe and an advisor to the United Nations regarding Intellectual Property and Open Source.
---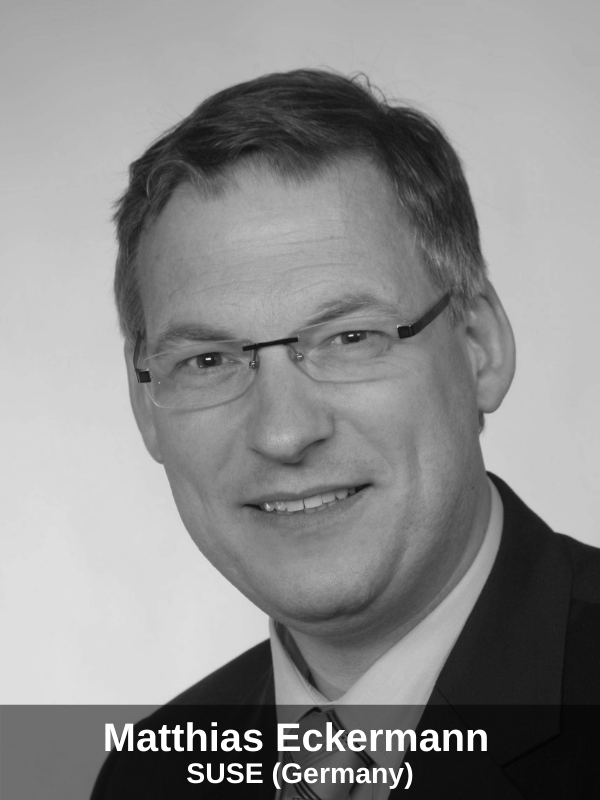 Matthias Eckermann, SUSE (Germany)

Matthias Eckermann is Head of Product Management Linux Platforms at SUSE. There, Matthias leads the product management team responsible for Linux Platforms. Besides Security and Certification aspects, the primary focus is the adaptable SUSE Linux Enterprise products family. This includes SUSE Linux Enterprise Server, SUSE Linux Enterprise Micro, High Availability, Live Patching, HPC, RT, Desktop, Virtualization and Container technologies, as well as operating system engagements in the Automotive space. Before joining Product Management he worked as consultant and senior architect for SUSE Linux on complex and strategic new projects in EMEA, with partners and customers in enterprise and public sector. Matthias has more than 25 years of experience working with Linux and other Open Source projects. Special areas of interest include Linux filesystems and security technologies.