SWForum.eu's John Favaro Presents at 19th International Conference on Software Reuse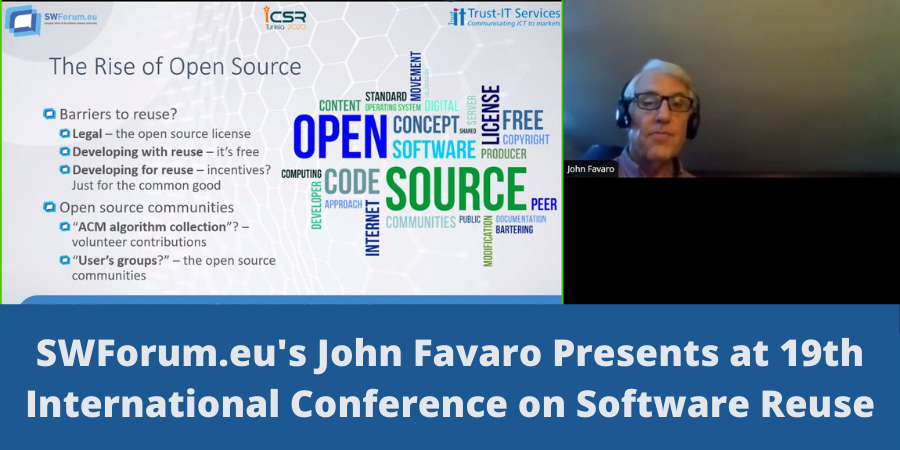 On 03 December 2020, Trust-IT Senior Analyst and SWForum.eu WP Leader John Favaro participated as an invited speaker at a Panel at the 19th International Conference on Software Reuse, together with researchers from European universities and from IBM Silicon Valley. In the Panel, entitled "Opportunities for reuse and opportunistic reuse practices: Trends and Challenges" and taking place in a plenary session of the conference, the speakers presented on and discussed the historical evolution of software reuse from its earliest days up through contemporary practices and trends.
John, as one of the founders of the conference back in 1992, traced the historical roots of systematic software reuse principles as far back as the NATO conference in 1968 that gave us the term software engineering. He noted that by the 1990s, the software reuse community was codifying systematic software reuse through research on reuse processes and maturity models. At the same time, a number of barriers to software reuse were identified by those early researchers, ranging from high up-front costs to incentives to legal and contractual issues.
And yet, fast-forwarding to today, we find ourselves in a world where reuse is the norm in large projects. How were the barriers to reuse overcome, then? John identified two powerful, complementary driving factors. The first was the rise of open source, after which many reuse barriers simply melted away. Upfront costs? The software was free now. Contractual issues? Open source licenses solved that problem. Incentives to write reusable software? Who would have predicted that many software developers need only the incentive to contribute to the common good? European software developers have been strong proponents of the open source movement, and are well positioned to take on and maintain a position of leadership.
The second driving factor was a matter of scale. The small software repositories of the early days were indeed barriers to reuse; but after the massive rollout of the Internet in the late 1990s, open source software repositories now host many terabytes of software components and frameworks. Software engineers don't need a sophisticated, systematic reuse process to exploit such enormous resources. The richness of the offering allows them to find and reuse open-source assets in a purely opportunistic fashion.
Does this mean that systematic reuse is a thing of the past? Not at all: opportunistic reuse of open source assets works fine; but it would work even better if it were systematic. This is where today's researchers can contribute to combining the dual powers of massive scale and a systematic approach, and once again, Europe is taking a leading position. A good example of that is the FAIR (Findable, Accessible, Interoperable, Reusable) data principles being promoted by large European software initiatives such as the European Open Science Cloud.
Software reuse remains one of the key factors in achieving competitive advantage today, and European researchers are among the best in this area. SWForum.eu will continue to follow this important sub-discipline of software engineering and engage important actors as it establishes and grows its Living Forum of software research and development in Europe.