SWForum.eu and the European software ecosystem: We need to talk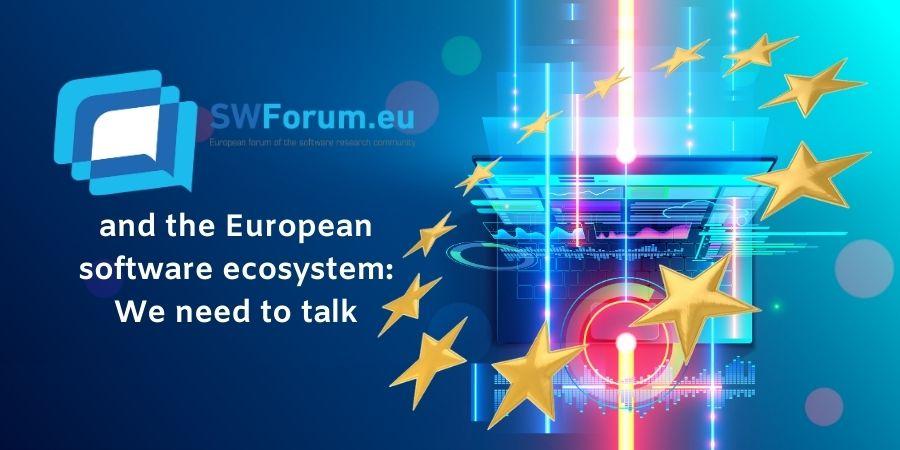 The European software ecosystem needs to avoid the risk of fragmentation exactly at a moment in which increased integration is needed. How? Let us count the ways:
Reliable and high-performance software transparently integrated across digital infrastructures will improve the practical lives of its users;
Fully integrated DevOps lifecycle processes will impact the economics of software development in Europe, promoting rapid deployment for market advantage;
European society will benefit from software applications integrated with modern low-power consumption technology. (Did you know that ICT has been estimated to be responsible for nearly 10% of all energy consumption today?);
Autonomous vehicles integrated with trustworthy, transparent AI could drastically reduce traffic fatalities on European roads;
Finally, modern cybersecurity practices integrated across all software related disciplines will have a profound impact on the trustworthiness of our European digital infrastructures and the software applications that use them.
But how can we integrate the results of so many disparate software R&I communities, which have traditionally worked in isolated silos? SWForum.eu has the answer: researchers, practitioners, policy makers, and regulators alike need to talk with each other, and the Living Forum will give them that opportunity.
The Forum will provide a rich programme of cross-fertilisation workshops bringing different R&I domains together to find points of convergence and integration. A Fellowship programme will ensure that highly-regarded, compelling personalities in the European software R&I landscape attract broad participation in the Forum. The Forum will also give a voice to its members in the definition of future European research roadmaps, providing timely and authoritative advice to policy makers. The goal of the Living Forum is to become a permanent, self-sustaining community driving European leadership in the ever-more critical areas of software engineering, digital infrastructures, and cybersecurity.
SWForum.eu is coordinated by TECNALIA, a research center based in the Basque Country. Other partners in the consortium include Trust-IT Srl (Italy), Conceptivity (Switzerland), the University of Oxford (UK), and the Polytechnical University of Milan (Italy).
For more information please contact info@swforum.eu.
---