SWForum as part of the First FastContinuum workshop at the ICPE2023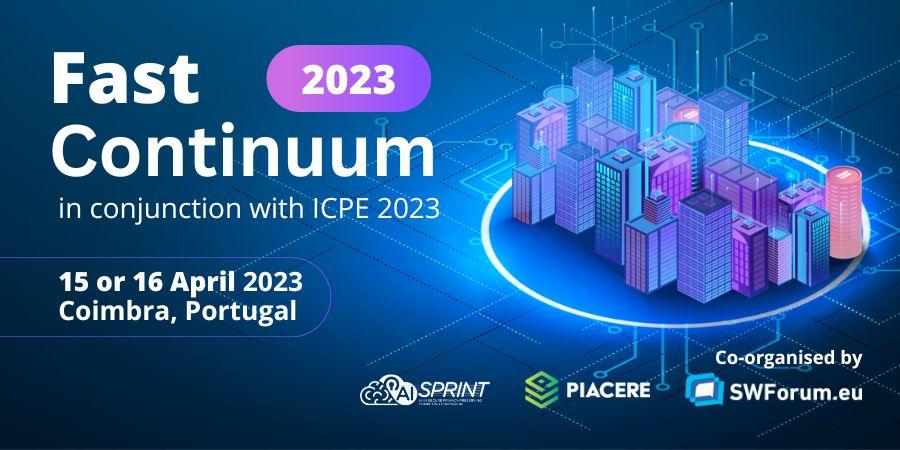 SWForum.eu, together with AI-SPRINT and PIACERE projects, are organising the First FastContinuum workshop on 15/16 April 2023 at the ICPE2023 workshop in Coimbra, Portugal.
Politecnico di Milano, one of our partners, is leading the organisation of the workshop. FastContinuum 2023 workshop is aiming to foster discussion and collaboration among researchers from cloud/edge/fog/computing continuum and performance analysis communities, to share the relevant topics and results of the current approaches.
Submission of the Call for Papers for this workshop is now open!
Authors are invited to submit original, unpublished papers that are not being considered in another forum. We solicit full papers (max. 8 pages) as well as short and demo papers (max. 5 pages). Short papers can include reports about research activities not mature enough for a full paper as well as new ideas and vision papers. All submissions must conform to the standard ACM format for conference proceedings. More specifically, the double-column formats have to be used for all paper submissions. Each paper submission will be reviewed by at least three members of the program committee. Papers can be submitted via EasyChair: https://easychair.org/my/conference?conf=icpe2023, FastContinuum 2023 workshop track.
Papers will be published by ACM in the ICPE2023 Proceedings and Companion volume.
At least one author of each accepted paper is required to attend the workshop and present the paper. Presented papers will be published as part of the ACM ICPE 2023 companion post-proceedings.
The deadline for the submission of papers is on 22 January 2023.
The ACM/SPEC International Conference on Performance Engineering (ICPE) is the leading international forum for presenting and discussing novel ideas, innovations, trends and experiences in the field of performance engineering.
ICPE brings together researchers and practitioners to report on open problems, state-of-the-art solutions, and in-progress research in performance engineering of software and systems - targeting performance and associated quality attributes such as efficiency and reliability in all phases of the computing system lifecycle, from specification and development to run time and maintenance.