SWForum.eu webinar brings together software R&I projects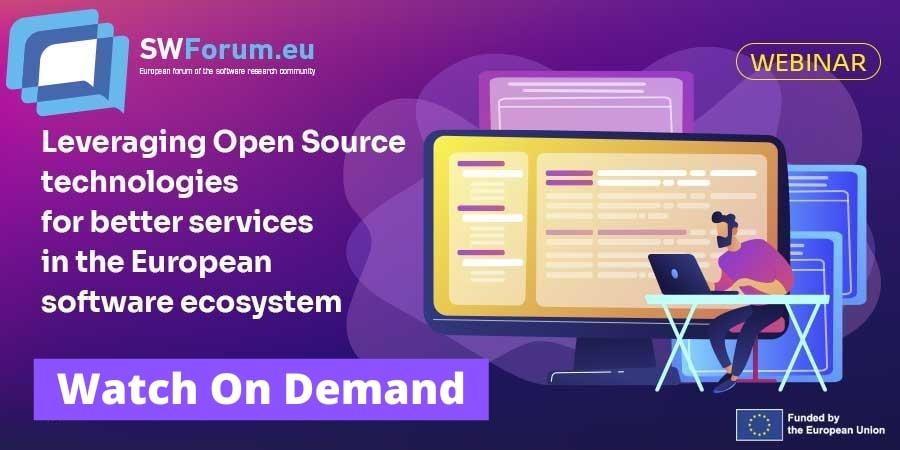 On 10 October 2022 a SWForum.eu Webinar "Leveraging OS technologies for better services in the European software ecosystem" was held. The webinar brought together different EU funded R&I projects to explore technical achievements of the projects, and to host a panel discussion with experts from different areas of the OSS (Open Source Software) and policy landscape on the potential impacts of OSS and the key challenges ahead.
The contribution of software and the software-based services (SSBS) industry to the EU economy has been increasing in recent years in every dimension (employment, value-added, and productivity).
Leveraging existing technologies and services, the SWForum.eu - European forum of the software research community aims to raise awareness and strengthen the competitiveness of the European Software Industry by facilitating a sustainable European forum that encourages both researchers and practitioners, as well as projects in software, digital infrastructure, and cybersecurity to create intersections of expertise and a multidisciplinary approach to research and innovation.
Some highlights of the webinar included the discussion around how to make OSS more trustworthy. The panellists, Luis Carlos Busquets Pérez (European Commission)
Ricardo Vitorino (Ubiwhere) George Drosos, (Athen University of Economics and Business), Konstantinos Oikonomou (UBITECH) and Nicholas Ferguson, (Trust-IT Services), suggested that it must be clear who the team behind the software is, the problems with OSS must be understood, and processes should be developed which include security & ethics policies.