Financial Sector Cybersecurity Collaboration and Engagement of Stakeholders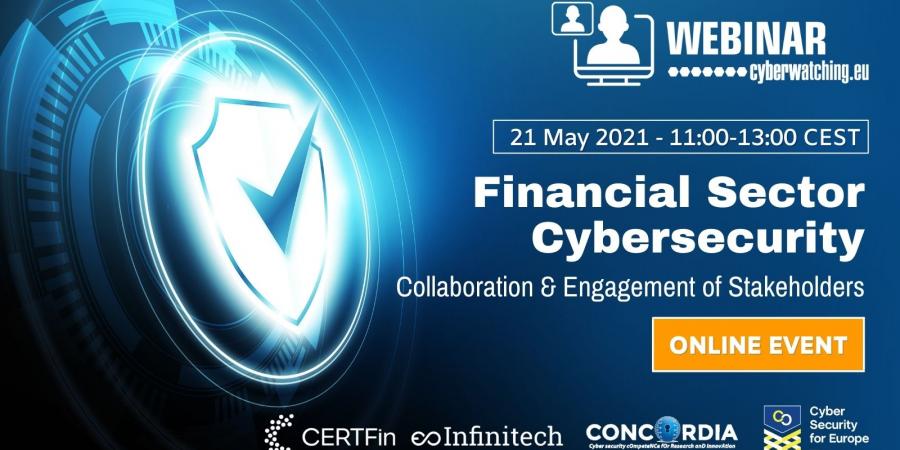 Cyberwatching.eu together with some of the financial project clusters: CONCORDIA, CyberSec4Europe, CERTFin and INFINITECH, are organising a webinar on "Financial Sector Cybersecurity Collaboration and Engagement of Stakeholders" on 21 May, 11:00 - 13:00 CEST.
Financial Institutions have always been one of the most attractive targets for cyber attacks due to their economical appeal. Nowadays, due to their owned high volume of personal data, more malicious actors are targeting them with innovative and unknown attacks. Due to all these factors, although new technologies and digitalisation bring so many benefits to this sector, it also has increased exponentially the attack surface.
Additionally, another critical issue for the financial sector is the growing attention from European legislators, regulators and standard bodies on cybersecurity issues related to the financial sector. The high volume and complexity of regulations, together with the fragmentation arising from different EU laws across national EU Jurisdictions causes inefficiency and loss of profitability.
Cooperation and cyber threat intelligence sharing are nowadays also a critical necessity in this sector.
Session will focus on best practices, motivational factors, and incentives related to collaboration of financial sector cybersecurity stakeholders, such as efforts to share threat intelligence, design common incident reporting workflows, joint risk assessments and others. It will include demos from H2020 projects.
Panel discussion will also include identifying appropriate financial sector specificities, recommendations on engaging the right internal and external parties, and setting clear processes within the community, as well as a process to collaborate with actors outside of the financial sector community.
It will also discuss topics of relevance for Digital Operational Resilience Act (DORA) practical implications, such as harmonisation of risk management rules across financial services sectors, incident classification and reporting, or information sharing arrangements and notification of  competent authority if they take part in such arrangements.
See the exciting agenda we prepared for you!