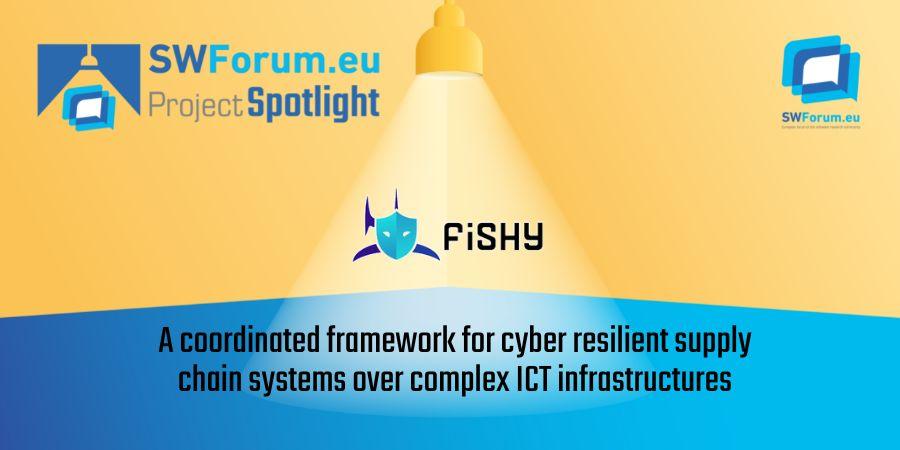 The SWForum.eu is glad to feature the FISHY project as our featured project spotlight from 18-22 July 2022.
---
The EU-funded FISHY project is a 36-month Research Innovation Action (RIA) project funded by the European Union within the H2020 research program that was successfully launched in September 2020.
The FISHY project aims to design, develop, validate and demonstrate a coordinated framework for cyber resilience to guarantee a trusted supply chain of ICT systems. The project is implementing new strategies to leverage data analytics, distributed ledger technology, intent-based security service orchestration, artificial intelligence, and programmable network infrastructure. The vision for this new platform is that it will not only facilitate adaptive system reconfigurations but also react to and defy the effects of cyber attacks in real-time in the ICT supply chain end-to-end, and in particular in the Internet of Things domain.
FISHY aims at integrating cybersecurity naturally in supply chain systems in order to increase their protection at design and run-time while fulfilling their specific needs. This is for us a very important aspect as nowadays trust and resilience are the basis for any organization. - FISHY Project Coordinator
The FISHYT proposed a comprehensive validation and demonstration strategy, build upon three use cases covering diverse supply chains and ICT systems, to show diversity and heterogeneity. These use cases come from different sectors, including agriculture, manufacturing, and transportation, and turn into three different validation pilots, located in Greece, Portugal, and Spain respectively.
The consortium is led by Atos and built by 2 partners from 7 European countries namely Germany, Greece, Italy, Portugal, Slovenia, Spain, and Switzerland. Of the partners, four of them are large companies, four are SMEs and four are Universities, with joint expertise encompassing cybersecurity, IoT, Artificial Intelligence, Networking, Automotive Industry, Intent-based resilience, Integration verification, Blockchain, and Security Assurance, to name a few.
Learn more about the FISHY project.