Webinar Highlights Importance of Standards in Software Technology and Digital Infrastructure Communities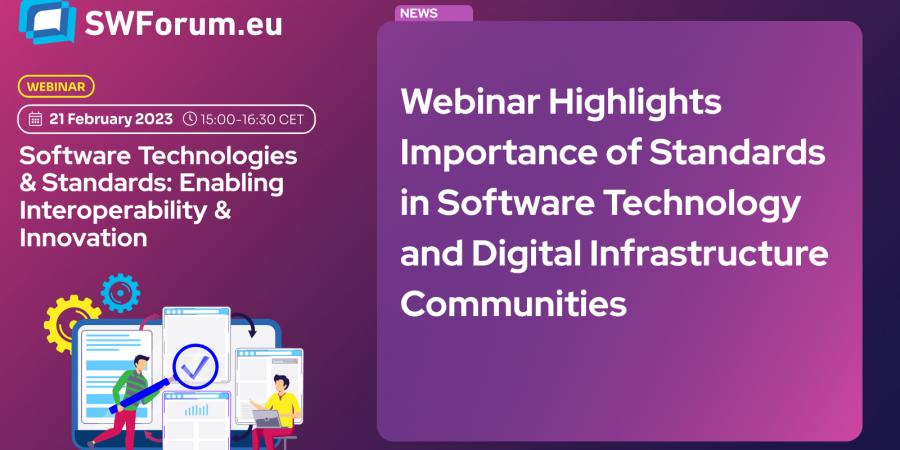 SWForum.eu held a webinar on 21 February to provide insights on how software technologies and standards are enabling interoperability and innovation in Europe. The webinar was part of the SWForum.eu's mission to ensure competitiveness of the European software industry.
The webinar targeted software technology and digital infrastructure communities, standardisation experts in ICT technologies, EC-funded H2020 and Horizon Europe projects with an interest in standardisation, policy makers, and representatives from ESOs, NSBs, and SDOs.
During the webinar, participants were presented with different types of standards ranging from international norms to telecom technical specifications to open data exchange. Practical examples of standards at work were also discussed, including their application in virtual and augmented reality and autonomous mission-critical components. The webinar also highlighted programmes and assistance made available by the European Commission for effective use of standards and participation in the standardisation process.
The European Commission's Standardisation Strategy aims to strengthen the EU's global competitiveness, enable a resilient, green, and digital economy, and enshrine democratic values in technology applications. Standards play a crucial role in achieving these goals by helping manufacturers ensure interoperability of products and services, reducing costs, improving safety, and fostering innovation.
However, awareness of both the utility and the necessity of standards is often lacking in the software community. The European Commission's efforts to raise awareness and provide practical examples of standards at work are an important step towards ensuring that the software community fully understands the role of standards in enabling interoperability and innovation in Europe.